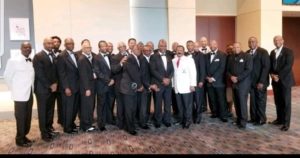 Brothers from the Northern Province were recognized for achievement during the 84th Conclave:
On Wednesday 07/31/2019, at the Kappa Foundation Luncheon, the Northern Province had young people, either connected to us by virtue of hometown or by university attended, receive $23,000.00 of the $100,000.00 awarded in scholarships (over 20%)!  I truly believe this was due to our marketing efforts within our Province of these available scholarships.  Children of Brother Rufus Bartel (Detroit Alumni), Michael Poole (Detroit Alumni), and Tyrone Sanders (Lansing Alumni) won scholarships.  We also had two Undergraduate Brothers win scholarships, Brother Sanford Brown (Delta Beta) and Brother Myles Miller (Beta Xi).
On Wednesday 07/31/2019, at the Awards Ceremony, Brother Edward Kennedy Glass, Jr. became the 110th Elder Watson Diggs Awardee.  I would like to thank Province Board Member Brother Julian Darden and his Team for putting together an outstanding petition.  I would also like to thank Brother Anthony Smith (South Central Province) for leading the joint reception for the awardees, Brother Charles Hicks (Detroit Alumni) and Brother Andre Reed (Saginaw Alumni) for participating on the reception committee.
On Friday 08/02/2019, Brother Nick Staats (Gamma Beta) was elected Grand Lt. Strategus.  Also, Northern Province native Brother Rhen Bass (Delta Nu)was elected Grand Keeper of Records & Exchequer.