The 2021 89th Northern Province Council (Virtual)
Dates: March 25 - 28, 2021
Location: Virtual
Host Chapters: Rochester (NY) Alumni and Xi Epsilon Chapter
Dear Brothers,
Today we officially launch our website landing page for the 89th Northern Province Council.  The direct link is http://89th.kapsi-np.org/.  This page will be your "one-stop" shop for all 89th Northern Province Council updates, documentation and access to meeting rooms during the 89th Northern Province Council.  The main links to focus on prior to the Council weekend are shown below with blue arrows.  Please note that the mobile experience is slightly different that what you see below, but you will have access to everything seen below in the mobile experience.
Key Documents – This link will provide you with all of the key documents (NPC Meeting Minutes, Financial Reports, Action Items, etc.).  More documentation will be provided as we get closer to Council so please check here frequently.
Click to View Agenda – This link will provide direct access to the overall schedule, agendas and workshop descriptions.  This will be updated weekly as more details are defined.
Voting Delegate Registration Form – This link is for voting delegates to register for the Council.  Please note non-voting delegates do not need to register.
Candidate Submission Form – If you wish to seek elected office, please use this link to submit your petition to run.
The remaining links on the page will provide you access to the virtual meetings during the Council.  Please note that more details will be forthcoming and provided on the detailed social schedule of events in the three different "Lounges" (Fellowship, Undergraduate and Senior) as we get closer to the Council weekend.
Albeit virtual we believe this will be one of the most memorable and eventful Province Councils in the history of our great Province.  I am looking forward to you all participating.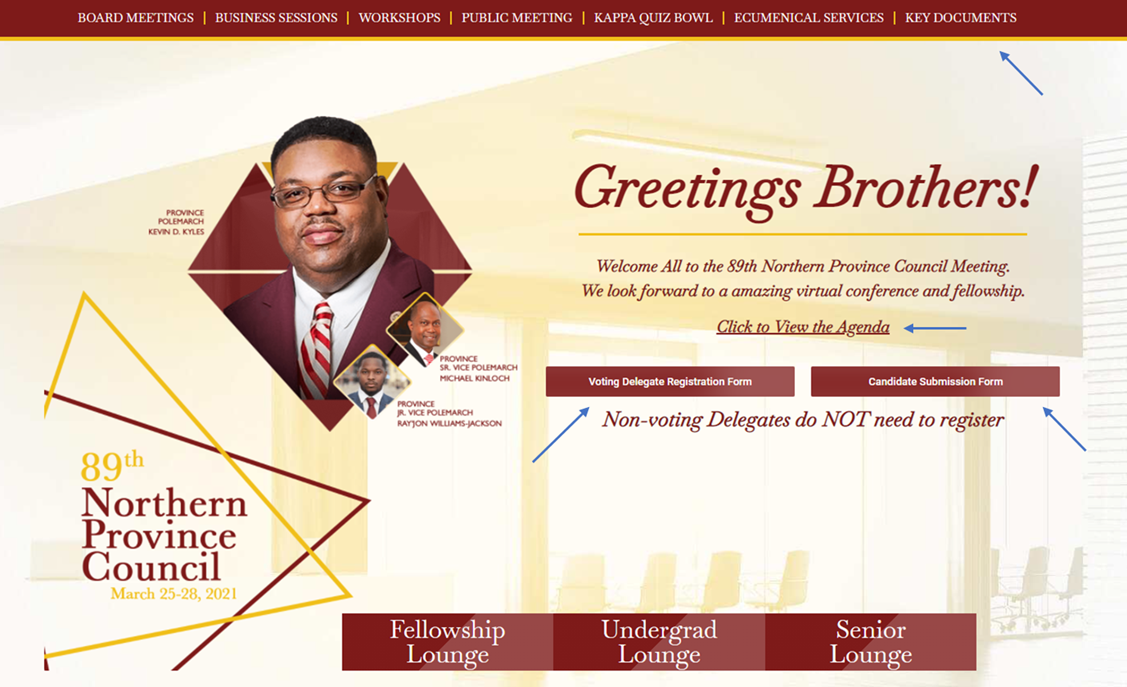 Yours in the Bond,
Kevin D. Kyles, Northern Province Polemarch