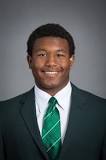 Please see the attached link below of a YouTube video produced by the Michigan State Football Program on the Northern Province's very own Brother Tyriq Thompson (Delta Pi 2017)!
Brother Thompson is a 5th Year Senior on the team and a starter.  He has already graduated with his Bachelors degree and pursuing a graduate degree while playing in his last year of eligibility.
The Northern Province is VERY PROUD of this young man and his leadership with the Delta Pi Chapter.