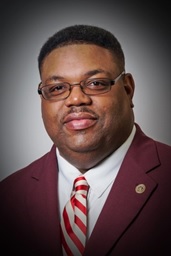 Kevin D. Kyles was appointed to the position of Northern Province Polemarch on May 1, 2016 by 33rd Grand Polemarch Thomas L. Battles, Jr.  He continues to serve under the 34th Administration led by Grand Polemarch Reuben A. Shelton III, Esq.
He was initiated on May 25, 1984 into Delta Pi Chapter, Michigan State University.  During his undergraduate years, he was very active in his undergraduate chapter as well as the Northern Province.  Brother Kyles held the positions of Strategus, Keeper of Records, Dean of Pledges, and Keeper of Records for Alumni Affairs.  In 1987, he was elected to the Northern Province Board of Directors as an undergraduate member.  He served as the co-Chairman of the Northern Province Fundraising Committee, and established the undergraduate "Super Jam" parties that were held at Cobo Hall for several years.  These events were tremendous financial successes for the Province.
Upon his completion of a B.S. degree in Computer Science in 1988, he immediately joined the Detroit Alumni Chapter and became a Life Member (#10953-92) of the Fraternity in 1992.   As a member of Detroit Alumni, Brother Kyles has held the offices of Lt. Strategus, Asst. Keeper of Records, member of the Board of Directors (1992 – 1998), Vice Polemarch (2003-2005) and was the 39th Polemarch (2005-2008).  He has held various committee chairmanships (Fundraising, Golf, Black & White Ball, Reclamation and 64th Northern Province Local Planning) and served on numerous committees.  He has also been a board member of the Kappa Detroit Foundation since 1993 and currently serves as Vice President and Chairman of the Scholarships and Grants Committee.
Brother Kyles was elected Northern Province Keeper of Records and Exchequer in 1994 and held the position until 1998.  During his tenure, he restored financial solvency to the Province and instituted policies and procedures to ensure financial accountability.   In 1995, he was selected as Northern Province Brother of the Year and in 1998, he was presented with the Northern Province's highest honor "The Robert L. Gordon Achievement Award".    He was elected to the Northern Province Board in 2008 and re-elected in 2011.  He served as the Senior Vice Polemarch of the Northern Province from 2011 to 2016.  He has also served on several national committees (Nominations, Elections and Finance).  From 1995 to 1999, he served under Past Grand Polemarch Ronald R. Young as Chairman of the National Student Revolving Loan Fund.
Brother Kyles' professional career began at Chrysler Corporation in 1986 as a summer intern in the Systems Planning department.  He spent a total 14 years with Chrysler Corporation holding various positions with increasing responsibilities in the areas of Logistics, Purchasing Systems, Plant Production Control, Corporate Production Control, Production and Non-Production Purchasing.   In 1993 (while working full-time), he earned a MBA degree in finance and economics from Wayne State University.  Subsequent to Chrysler, he held senior management positions at both MSX International and Visteon Corporation before leaving Corporate America in 2005 to become a full-time entrepreneur. He was President & CEO of Radiant Logistics, Inc. from 2005 – 2012 which provided vehicle delivery services within the 48 contiguous states.
Currently, he is a Senior Program Manager and leader within the Group Product Development area of Blue Cross Blue Shield or MI.  He has continued his entrepreneurial activities as a partner in MPressions Marketing, LLC and Inscriptiongolf, LLC, which both provide promotional products and marketing services.  He is also an adjunct instructor at Wayne County Community College District and Upper Iowa University.
Brother Kyles and his wife Zena (AKA) have been married for 28 years.  He has one daughter (Autumn (AKA) – 26), two sons (Andre' – 38, Kevin - 15), and one granddaughter (Amira – 15).     He is a member of Empowerment Church and is affiliated with several professional and social organizations.